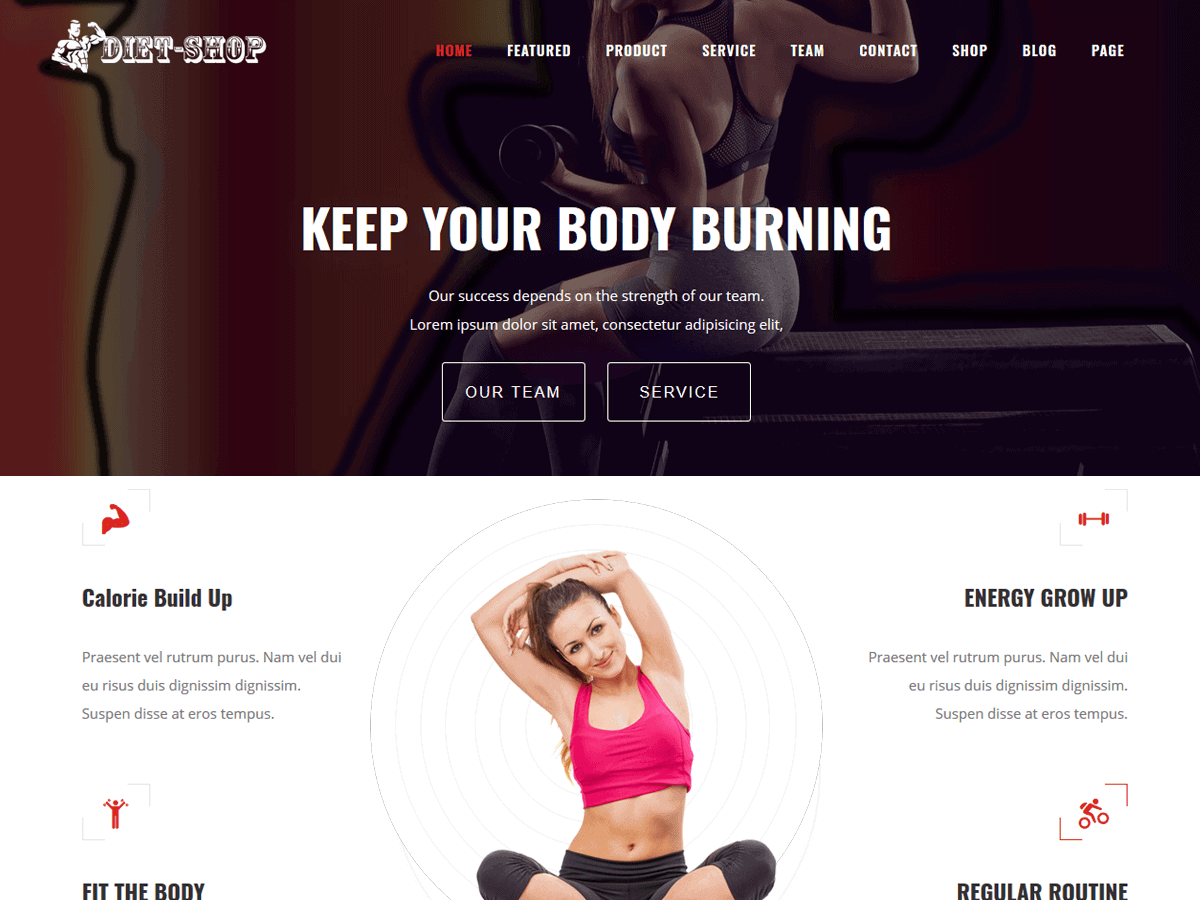 Diet-shop is a leading WordPress e-commerce theme that is quite different from others. If you want to create a gym shop or fitness theme, then get in touch with this platform, which is a full package with a WordPress health blog theme.
The diet-shop platform has been configured with Bootstrap and Elementor Page Builder. Needless to say, this is the full packages of all facilities.
Diet-shop is a highly featured platform with a nutrition WordPress theme that options several of practicality required for gym or fitness, Health Clubs, Yoga Teacher, Gyms, Fitness Centers, gymnasium Trainers, nutrition and specialist websites, for weight loss programs, health supplements search and diet specialists, personal fitness and weight loss trainers.
Most popular plugins named by WP Super Cache, Gutenberg, WooCommerce, automatic, Contact Form 7, Yoast SEO, Smart Slider 3, SiteOrigin, etc., are merged with Diet Shop Free WordPress Gym Themes. So, without writing a line of code, you can be able to design all niches and gymnasium searches or fitness stores within a very brief time.
== Credits ==

Underscores:
Author: 2012-2015 Automattic
Source: http://underscores.me
License: GPLv2 or later

Bootstrap:
Author: Twitter
Source: http://getbootstrap.com
License: Licensed under the MIT license

Fontawesome :
Author: fontawesome
Source: http://fontawesome.io/
License: [MIT/SIL OFL Licensed](http://fontawesome.io/license/)

Customizer ( Section Pro button ):
Author: https://github.com/justintadlock
Source: https://github.com/justintadlock/trt-customizer-pro
License: GNU GPL

Owl Carousel 2:
Author: David Deutsch
Source: https://github.com/OwlCarousel2/OwlCarousel2
License: [MIT License.]

Sticky Plugin :
Author:  Anthony Garand    
Source: https://github.com/garand/sticky
License: MIT License

Tgmpluginactivation:
Source: http://tgmpluginactivation.com/
License: GPL-2.0 or later license.

WordPress Widget Builder Framework:
Author:  AleksandarPredic    
Source: https://github.com/AleksandarPredic/WordPress-Widget-Builder
License: GPL v2 or later



== Google Fonts ==
Open+Sans
Source: https://fonts.google.com/specimen/Open+Sans?selection.family=Open+Sans
License: Apache License, Version 2.0  

Oswald
Source: https://fonts.google.com/specimen/Oswald
License: Open Font License   

== Image Used ==
Name : adult-beautiful-biceps-body-dumbbell-exercise
License:  CC0 Public Domain 
source: https://pxhere.com/en/photo/1554427

Name : Fitness PNG image with transparent background
License: Creative Commons 4.0 
source: https://pngimg.com/download/61877

Name : screenshot.png logo 
License:  Self created by athemeart.com